On 15th December 2022, the Iowa's News Now reported "Patients at UnityPoint Health – St. Luke's Witwer Children's Therapy (WCT) are benefiting from new equipment, which mimics that of riding a horse." One mother [Junge], stated "It was similar to horseback riding"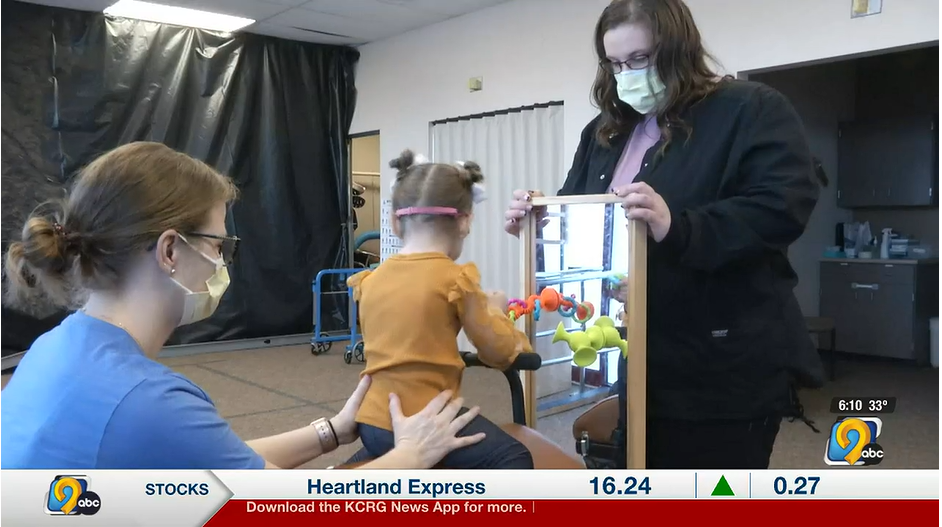 In late 2022, Unity Point Health received 2 MiraColts through a $17,281 grant awarded to the St. Luke's Foundation for its St. Luke's Witwer Children's Therapy (WCT) centers at Cedar Rapids and Hiawatha, Iowa. Olivia Housman, is one of the first children to benefit from riding the MiraColt. Delivered at 24 weeks and born weighing less than a pound, Olivia, who loves the MiraColt, rides the device weekly to build strength and ability.
"It was similar to horseback riding, except you don't actually do horseback riding," her mother, Junge, said. The feature article from KCCI reported, "Just 10 to 15 minutes on the MiraColt can allow a patient to go through that motion more times than any other type of exercise. And Olivia is just one of the many children that have proved those benefits, KCRG reports." Junge stated "She's taking more steps independently, she's not having to think about walking as much anymore, and her gate is a lot more fluid."
Sarah Bengston, supervisor of Pediatric Therapy at Witwer explained the benefits of the MiraColt:
"A horse's pelvis moves in the three detentions, so forward and backwards, it moves side-to-side, and then it rotates. This motion mimics what a human's pelvis does during gate, during walking, ……. While they could go to a stable and have a patient ride an actual horse, this device removes the challenges that may come with that experience. ……… Weather barriers, transportation barriers, there are barriers of time. And then there are clinic barriers for us as a system, you know, getting therapists out to a stable, getting them out of the clinic for half of a day is very challenging"
For children like Olivia, one of the biggest benefits overall to patients at Witwer, the article reports, "is that this can be seen as a game or fun activity. Bengtson says when treating children, they aim to make it that way while also offering a challenge so the child can succeed as therapy goes on."
The MiraColt™ is designed to provide a realistic riding experience that is safe, therapeutic, and enjoyable for children with various disabilities. It allows children who may not be able to ride a real horse due to their condition to still experience the benefits of equine-assisted therapy.