Chariot Innovations is …
Innovating in Motion Technology
that leverages therapy options offering increased possibilities and outcomes to improve functional ability and quality of life for people with neurological conditions or disabilities.
MiraColt Product Information
The MiraColt™ is a neuro-muscular stimulation device. The Device simulates a walking gait movement of a horse. The graphs of motion capture data below show that the MiraColt (dotted lines) closely replicates all six degrees of motion freedom in the equine walking gait of live horses (solid lines), thereby giving the rider convenient access to these complex natural movement patterns that are important for beneficial therapy outcomes.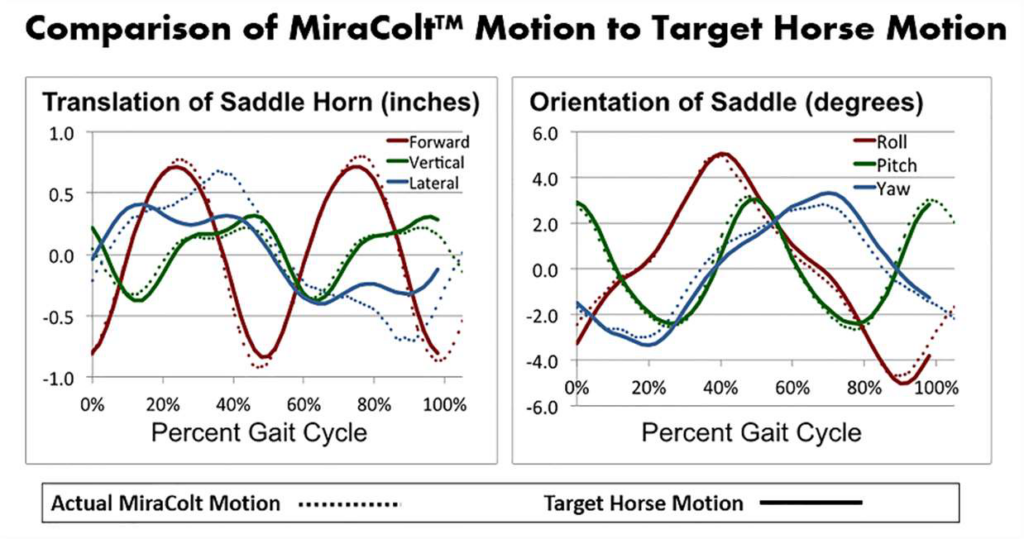 The MiraColt™ offers the benefits of Therapeutic Horse Riding to those who might not be able to access or ride a live horse.
Product Details:
The MiraColt™ is registered with the United States FDA. The following are its registration details:
Registration #:
3013383022
Device:
Exerciser, Powered
Regulation Description:
Powered Exercise Equipment
Regulation Medical Specialty:
Physical Medicine
Device Class:
I
Regulation Number:
890.5380
Premarket Review:
Office of Device Evaluation (ODE)
Division of Neurological and Physical Medicine Devices (DNPMD)
Physical Medicine and Rehabilitation Devices Branch (PMDB)
§ 890.5380 Powered Exercise Equipment.
(a) Identification:Powered exercise equipment consist of powered devices intended for medical purposes, such as to redevelop muscles or restore motion to joints or for use as an adjunct treatment for obesity. Examples include a powered treadmill, a powered bicycle, and powered parallel bars.
(b) Classification:Class I (general controls). The device is exempt from the premarket notification procedures in subpart E of part 807 of Title 21, Chapter I, subject to the limitations in § 890.9.
[48 FR 53047, Nov. 23, 1983, as amended at 61 FR 1125, Jan. 16, 1996; 66 FR 38818, July 25, 2001]
Technical Specs:
The MiraColt™ is registered with the United States FDA. The following are its registration details:
| | |
| --- | --- |
| Power Usage: | 120VAC – 1 Phase – 15 amp – 60HZ |
| Operation temperatures: | 1°C (34°F) to 40°C (104°F) – 95% humidity – No condensation / non-Frozen |
| Operational Speed: | 20Hz – 60HZ Frequency |
| Dimensions: | |
| Generation 3 | 41 x 59 x 76cm (16 x 23 x 30 Inches) |
| Generation 4 | 43 x 71 x 76cm (17 x 28 x 30 Inches) |
| Weight: | |
| Generation 3 | 68 Kg (150 Lbs) |
| Generation 4 | 75 Kg (165 Lbs) |