Increasing the PosAbilities
Medical Grade Equine Motion Simulator
Increasing access to the neurodevelopmental, neurorehabilitation, sensory stimulation and integration, as well as motor function learning and control benefits of horseback riding as part of therapy for neurological movement disorders occurring in Cerebral Palsy, Parkinson's, Stroke, Multiple Sclerosis, Autism, and similar conditions.
MiraColt Base
$8,250
Base Model with option of either the High or Low Base Seat
MiraColt Plus
$8,825
Has Interchangeable Seat Upgrade with both Low and High Base Seats
MiraColt Rental
$375-425/month
Only in Texas. $500.00 Security deposit and 6 months minimum term.
What is the MiraColt™?
Inspired by the benefits of horseback riding in hippotherapy, the MiraColt™ is specialized, medical-grade motion simulator device designed to simulate the movements of horseback riding in a controlled and safe environment. The American Hippotherapy Association (AHA), defines hippotherapy as "how occupational therapy, physical therapy and speech-language pathology professionals use evidence-based practice and clinical reasoning in the purposeful manipulation of equine movement as a therapy tool."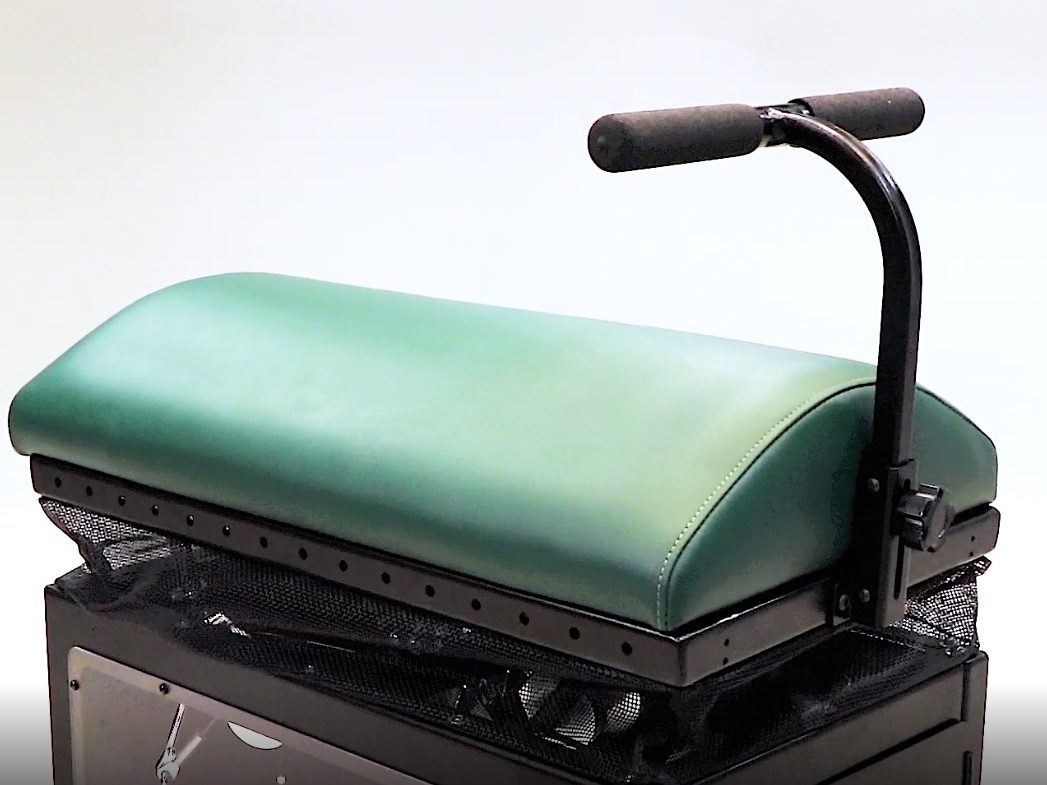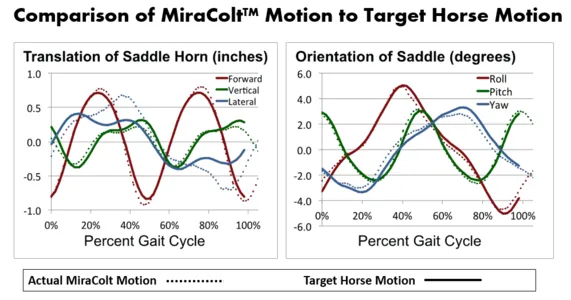 Why the MiraColt™?
The MiraColt™ motion simulator accurately reproduces the smooth, rhythmic, and repetitive multidimensional walking gait motion pattern of a horse for the benefit of its rider.
This is particularly useful for individuals with neurological movement disorders, who would benefit from a horse-riding experience as part of their therapy but may have difficulty accessing the benefits of horseback riding due to physical, logistical, or environmental limitations.
Research has shown that the multi-dimensional, repeated, rhythmic and yet constantly changing sensory input elicited from the walking gait of a horse during horseback riding therapy has a range of physical, emotional and cognitive benefits for individuals with physical & neurological (neuromotor or developmental) movement disorders. These, include improvements in balance, posture (greater postural equilibrium reduces fall risk), gait, muscle tone &strength, joint stability, weight shift, trunk control and coordination. It also leads to overall improvements in physical fitness, self-awareness, and confidence. Plus, it can also provide sensory stimulation, promote sensory integration, and have a calming effect which can be particularly beneficial for individuals with autism and other sensory processing disorders.
The MiraColt™ equine motion simulator is designed to provide these benefits in a controlled and safe environment. It provides a consistent and customizable environment for therapy sessions in an equine facility, clinical therapy setting or even home environment. The speed of the device can be altered, thereby enabling therapists and caregivers to monitor and grade the level of stimulation or challenge required to target specific areas of need, ability and improvement. Thus, ensuring that each session is tailored to the individual's specific needs and goals.
The MiraColt™ has also been used to evaluate posture while riding, and to build strength for people preparing to ride horses for therapy. Whether in a home or clinic, the MiraColt is a useful complement alongside horseback riding on a live horse. It is easy to handle, doesn't take up much space, isn't dependent on weather conditions, and decreases the risk of falls. It's an ideal solution for anyone who's allergic to, or simply fearful of horses.
It's important to note that while the MiraColt may be a valuable tool in therapy, it should not be seen as a replacement for other forms of treatment. Therapy for neurological movement disorders should be individualized and may include a variety of approaches, including medication, physical therapy, occupational therapy, and speech therapy, among others. Also, riding a live horse does have special emotional bonding benefits which are invaluable in interventions to address Post Traumatic Stress Disorders, Substance Abuse and other mental, social and adjustment disorders. Emotional bonding is also important in addressing Autism Spectrum disorders.
The MiraColt™ is currently serving….
23
PATH/AHA Affiliated Centers
11
Higher Ed. & Research Centers
3
Special Education Facilities
Testimonials
What our clients and colleagues have to say about us.
"The Miracolt gives people with disability a safe and 'true to life' alternative. It has all the benefits of equine therapy but in a safe and controlled environment."
McIntyre Centre Riding for Disabled
"We have tried every equipment, mechanical device out there, you name it. This machine, the motion it provides, has done more for my husband's brain than anything else we've tried. As a nurse, I see him improving every day."
Patricia Jelks
Wife of a stroke survivor
"We recently used the MiraColt in combination with speech therapy for adults with brain injury, and were very pleased with the outcomes of the project. This is a very promising direction for potentially enhancing the effects of language treatment."
Paul Filmore
Assistant Professor of Communication Sciences & Disorders at Baylor University