Frequently Asked Questions
We get a lot of questions about the MiraColt™. Here are some of the most common. If you have another question, please feel free to reach out to us directly to get an answer!
What is the difference between the MiraColt and other horse gait equipment?
The MiraColt raises the bar among riding simulators and related horse gait equipment. Some existing devices used for therapy were historically marketed as core exercise machines, providing forward-backward seat motions along with some side-to-side motion. Others were originally designed for riding training and provide primarily forward-backward rocking motion.
The MiraColt was originally and specifically designed for therapeutic purposes to realistically reproduce the complex, natural, three- dimensional motion pattern experienced when riding a horse, which has many similarities to natural human gait. As shown in the graphs below by motion capture data of equine walking gait (solid lines), the riding motion includes complex cyclical patterns with three-dimensional translational and rotational components.
The MiraColt closely replicates the motion of the horse in all these components (dotted lines), giving its rider access to these realistic, natural gait motion patterns comparable to those experienced from a live horse.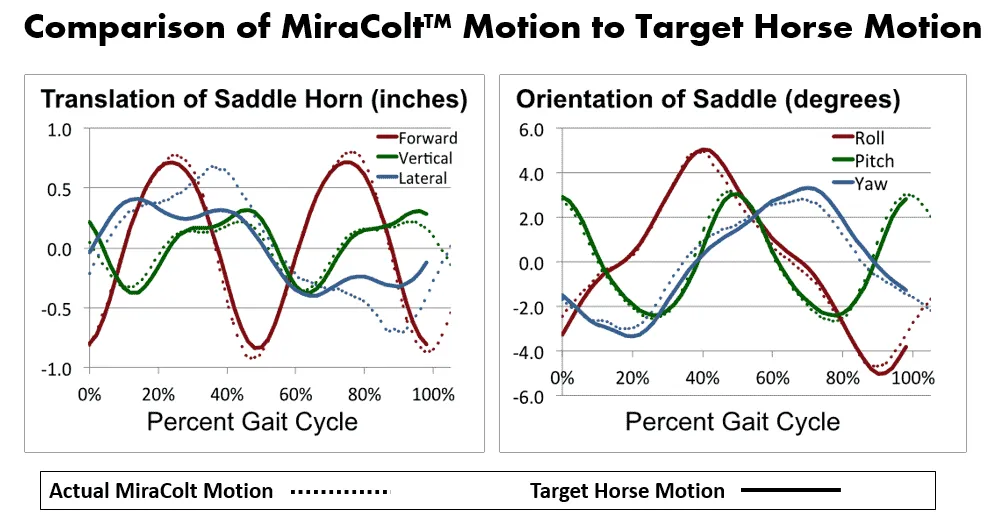 What is the weight limit to ride?
The MiraColt is rated for riders weighing up to 275 lbs.
How long do people ride to achieve therapeutic benefit?
The duration and frequency of MiraColt use may vary widely depending on therapeutic goals and recommended treatment protocols. Effective protocols have ranged from 7 to 45 minutes of riding per session, 1 or 2 sessions per day, and 1 to 5 days per week.
At what speeds can the MiraColt be ridden?
The MiraColt has variable speed capability up to about 48 cycles per minute, which correlates to a brisk equine walking gait. More typical and natural riding speeds are 36 to 45 cycles per minute.
What safety precautions should one take when riding the MiraColt?
The MiraColt should be ridden on a flat stable surface with wheels pointed outward and locked. For therapeutic applications, the rider should be positioned in a centered stable position on the seat with supervision by a trained caregiver or medical professional.
What are the different exercises or ways to use the MiraColt?
The MiraColt has been used in many ways by many types of therapists and athletic trainers depending on health and fitness goals. Variations in use protocols include speed and frequency, sitting posture (e.g. kneeling or sitting facing forward, sideways, or backwards), and activities during and following riding. We are happy to connect interested users with those who can share and recommend appropriate protocols.
What are the dimensions of the Miracolt?
The Miracolt is 32″ long, 21″wide, and 30″ tall.