Delivering Horseback Riding Therapy benefits for Multiple Sclerosis
MiraColt™ for Multiple Sclerosis
Multiple sclerosis (MS) impacts the brain's ability to communicate with the rest of the body. It often leads to impairments in balance and coordination, along with muscle weakness, blurred vision, and dizziness. Hippotherapy, or horseback riding therapy is an increasingly, expert recommended, effective supplementary intervention to address these MS symptoms.
Multiple Sclerosis : Why consider the MiraColt™?
Multiple sclerosis (MS) is a chronic autoimmune disorder that affects the central nervous system. It occurs when the immune system attacks the myelin sheath that covers nerve fibers, causing inflammation and damage to the nerves. This can result in a variety of symptoms such as muscle weakness, fatigue, vision problems, and difficulty with balance and coordination.
Studies have demonstrated that a horse's pelvic motion has remarkable similarities to human walking patterns. When incorporated into a therapeutic intervention, the MiraColt™ enables its rider experience multiple neuromotor stimulation inputs generated by the multidimensional, repetitive, rhythmic motion of the device. Those stimuli elicit trunk, limb, core and motor responsive and corrective movements as the rider adapts to those motion patterns through rhythmic repetition. Over time, the responsive and corrective movements become reinforced behaviors, even when the person isn't riding.
Studies (evidence level 1) have shown that weekly therapeutic interventions utilizing the gait motion of a horse, as a supplement to usual individual standard therapy, results in significant long term improvements in balance and coordination, and enhancements in overall physical strength and endurance, a reduction in pain, and enhanced functional abilities and quality of life.in people with Multiple Sclerosis. In addition, the gains experienced have resulted in a greater sense of independence and empowerment for individuals with MS. Riding the device, even for fun, can also be a form of stress relief, promoting relaxation and a sense of well-being. In a study comparing two groups—one participated in traditional physical therapy while the other engaged in horseback riding therapy, the latter group experience greater gains in balance and coordination.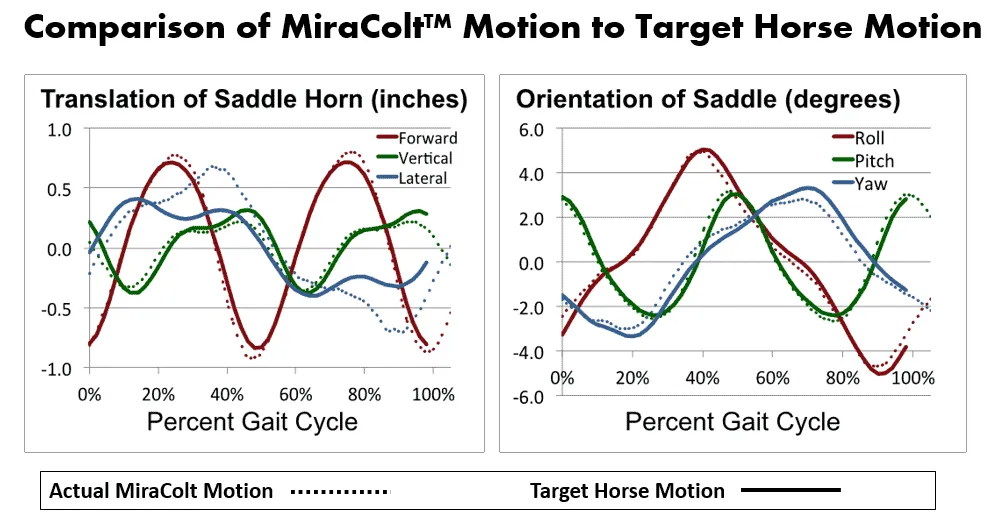 The MiraColt™ : motion for therapy
The MiraColt™ is a therapeutic medical device designed to realistically reproduce the complex and natural three-dimensional motion patterns experienced when walking or when riding a horse. This simulated movement, during therapy, stimulates neural pathways and the muscular system by delivering carefully graded motor and sensory inputs.
The device is easy to operate and safe. And the physical or occupational therapist is able to grade the level of stimulation to adjust to the target objectives and needs of therapy.
The MiraColt™ : Increasing Access to an Authentic Riding Experience for Therapy
Access to the benefits of hippotherapy or horseback riding is not always logistically, environmentally or practically possible. Live horses can be an intimidating experience for many, and it may not be the safest option for those with severe symptoms. Additionally, horseback riding facilities can be sparse in some regions, which makes routine access a challenge. The weather, horse fatigue, allergies, and the need for three or more support staff during riding are just a few of the other challenges people with multiple sclerosis face when trying to access the demonstrated benefits of horseback riding to improve their quality of life and alleviate their symptoms.
The MiraColt™ Equine Motion Simulator is a unique device that provides an authentic horse riding experience for individuals with multiple sclerosis (MS). The simulator is designed to replicate the movement and feel of a real horse, making it an effective therapy tool for those with MS. The simulator uses advanced bio-mechanical design to replicate the movement of a real horse, providing a safe and controlled environment for individuals with MS to practice their riding skills. The simulator has adjustable settings, allowing therapists to customize the experience to meet the specific needs of each individual. It also provides real-time feedback on the rider's performance, helping them to improve their technique and achieve their therapy goals.
Overall, the MiraColt Equine Motion Simulator is a revolutionary, innovative and effective therapy tool for individuals with MS. By providing an authentic riding experience in a safe and controlled environment, it helps improve balance, coordination, and muscle strength, and ultimately enhance the quality of life for those with MS. We believe in the benefits of horseback riding therapy for multiple sclerosis, so we strive to make this a viable option for anyone.