Stroke & Parkinson's Adaptive Equipment: The MiraColt™
The MiraColt™ is physical therapy gait training equipment that can be used both at home or in a therapy center as a viable part of care & management that improves rehabilitation therapy outcomes and quality of life for people with Parkinson's and those undergoing Stroke rehab.
The Benefits of Using the MiraColt™
As an intervention tool in stroke rehab or management of Parkinson's disease, the MiraColt™ improves core strength, posture, balance, gait, stability, and control
In studies involving the use of the MiraColt™ as adaptive equipment for Parkinson's, B. Rhett Rigby, Ph.D.,CSPS, NSCA-CPT, said he "saw improved gait and balance in Parkinson's patients." In a separate study, 12 participants with Parkinson's who rode the MiraColt™ gait training device for six weeks reported improved standing ability, less cognitive impairment, improved balance, better sleep, increased mobility, improved emotional state, and increased social interaction. Similar results have been reported by people undergoing stroke rehabilitation therapy with the MiraColt™.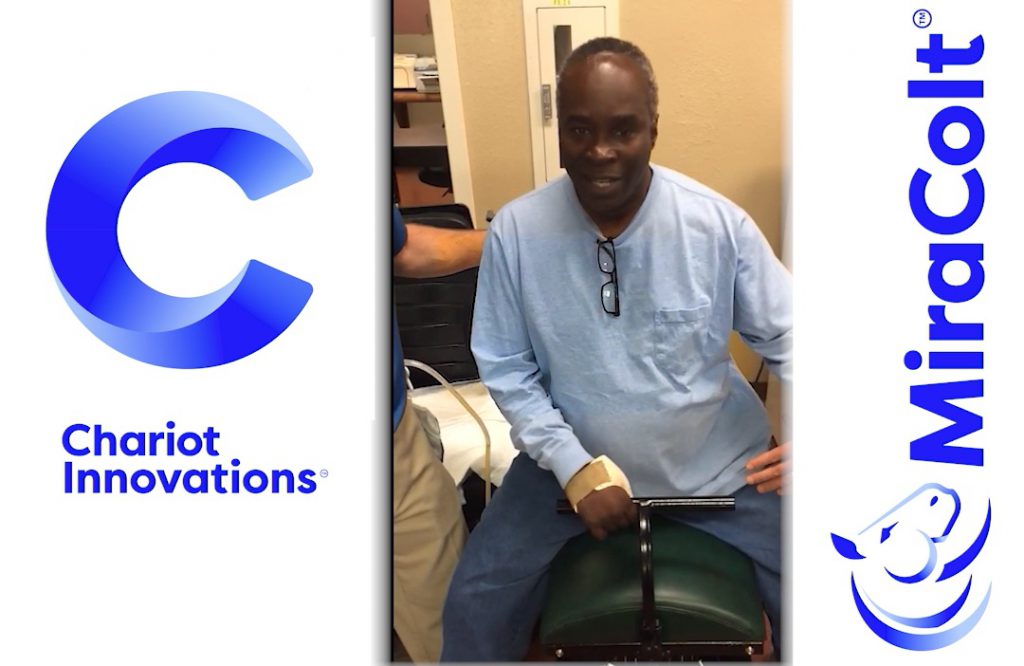 What the MiraColt Does
This therapeutic medical device reproduces the complex, natural motion patterns of riding a horse. It delivers carefully graded motor and sensory inputs to stimulate neural pathways and the muscular system.
Research & Testimonials
Every year, approximately 795,000 people (about one person every 40 seconds) suffer from a stroke in the United States. Strokes are a leading cause of serious long-term disability, reducing mobility in more than half of survivors age 65 and over.
Parkinson's disease is also another major cause of disability, particularly among the elderly, in the United States. Approximately 60,000 people are diagnosed with it each year, with men 1.5 times more likely to have the disease compared to women. In 2020, approximately 1 million people were estimated to be living with Parkinson's disease within the United States.
Both Stroke and Parkinson's disease greatly affect patients' quality of life by affecting mobility and function, thus making social interaction and independence more difficult and worsening to their financial condition because of the associated medical and supportive care expenses.
Various studies using simulated horseback riding equipment have shown great promise in improving outcomes for people undergoing management for stroke or Parkinson's disease. Within 8 to 12 weeks of therapeutic intervention, benefits like noticeably improved postural balance, improving the asymmetry of the abdominal muscles of stroke patients, improving equilibrium, flexibility and postural adjustment, and improving overall mobility, freedom and functionality.
A 2018 study on the effect of hippotherapy (from which the innovation of the MiraColt draws its inspiration) on Parkinson's disease found that the rhythmic and three-dimensional oscillations triggered by riding elicited an important neuromuscular response from riders' postural reflex mechanisms. The movement of the horse—its gait motion patterns—was sensed by the participants to be similar to that experienced in the pelvic areas as part of normal human gait, thereby helping to improve balance and strengthen the trunk muscles.
The MiraColt™ is viable gait training equipment for people with Parkinson's disease or those undergoing stroke rehab. By reproducing the natural and complex three-dimensional motion of a horse, it makes gait training for stroke patients and Parkinson's patients both accessible and affordable for a vast number of people who need it.