Meet the MiraColt™ 
The MiraColt™ safely provides access to the therapeutic benefits of natural and complex multidimensional, repetitive, and rhythmic equine motion patterns in management of Cerebral Palsy, Autism (ASD), Parkinsonism, Stroke, and other similar neuromotor, developmental, or physical problems.
MiraColt Base
$8,250
Base Model with option of either the High or Low Base Seat
MiraColt Plus
$8,825
Has Interchangeable Seat Upgrade with both Low and High Base Seats
MiraColt Rental
$475-545/month
Only in Texas. $500.00 Security deposit and 6 months minimum term.
The MiraColt™ Transforms outcomes
What is the MiraColt™?
The MiraColt™, inspired by the benefits of horseback riding for therapy purposes (in Hippotherapy and Therapeutic or Adaptive Horsemanship), is a robust, specialized, medical grade bio-mechanical device designed to realistically reproduce the complex and natural three-dimensional motion patterns experienced when walking or riding a horse. It bridges the access gap for individuals who could benefit from an intervention but cannot get to or on a horse.
The MiraColt™ Horse-Riding Motion Simulator
Inspired by the benefits of horseback riding in hippotherapy, the MiraColt™ is specialized, medical-grade motion simulator device designed to simulate the movements of horseback riding in a controlled and safe environment. It uniquely, accurately reproduces the smooth, rhythmic, and repetitive multidimensional walking gait motion pattern of a horse for the benefit of its rider.
Horseback riding therapy, also known as equine-assisted therapy or hippotherapy, has been shown to have many benefits for people with neurological (neuromotor, developmental or physical) movement disorders such as Cerebral Palsy, Parkinson's, Stroke, Multiple Sclerosis, Autism, and similar conditions. The mechanism involves using the walking gait movement of the horse to stimulate the rider's nervous system and provide a unique sensory experience. This repetitive, multidimensional yet rhythmic motion , by eliciting responsive or corrective cognitive, postural and muscular reactions from the rider results in improvements in balance, coordination, and posture, while the rhythmic, equilibrating nature of the movement provides calming and soothing sensory input. A typical therapy session with the MiraColt™ is 15-25 minutes (which represents 1500 – 2500 neuromotor inputs to the user). One to two sessions a week over 3 to 12 weeks, as a part of a therapy intervention, have shown measurable improvements for users.
The 4 categories of therapeutic benefits derived from horseback riding that the MiraColt equine motion simulator will provide are:
Neurodevelopmental benefits:
It provides a unique sensory experience that can help stimulate and develop the nervous system. The rhythmic movement helps improve balance, coordination, and muscle tone. It can also help promote the development of fine and gross motor skills.
Neurorehabilitation benefits:
For individuals who have experienced neurological damage due to stroke or other conditions, the device can play an important role as part of rehabilitation. Graded, targeted interventions in which rider responds to the multidimensional movement provided by the device helps improve range and stability of motion (i.e., gait quality, cadence, stride length & velocity, step length asymmetry ratio, and weight shift), flexibility, and strength. It can also help with coordination and balance, which can be particularly helpful for individuals with hemiplegia or other forms of paralysis and in reducing the risk and incidence of falls.
Sensory stimulation and integration benefits:
While riding, the full range of the 3 dimensional rhythmic motion provides a unique sensory experience that can help individuals with sensory processing issues. The movement of the horse helps stimulate the vestibular system, and promote sensory neural and sensory motor adaptive and corrective responses which plays a key role in balance and spatial orientation. It can also help integrate sensory information from the environment, which can improve overall sensory processing.
Motor function learning and control benefits:
Horseback riding requires individuals to use a range of motor skills, including balance, coordination, and postural control. Over time, these skills can be developed and refined, leading to improved motor function, and even fitness overall.
When applied with other therapy strategy tools, the MiraColt™ horse riding simulator exercise machine has been shown to offer patients a unique opportunity for fine and gross motor learning and development to achieve a better quality of life. 
Expanding Access to Equine Motion Benefits
The MiraColt™ motion simulator accurately reproduces the smooth, rhythmic, and repetitive multidimensional walking gait motion pattern of a horse for the benefit of its rider.
Its use has numerous advantages, including freedom from space limitations, easiness of handling, ability of use even in adverse weather conditions and reducing the risk of falls that are associated with horseback riding. It is also a great alternative for those with allergies to horses or are fearful of riding horses.
It also serves as a great tool to evaluate riding posture or helping in strength building exercises while preparing people to ride horses for therapy. The MiraColt is a great complement alongside horse-riding for use in both a home or clinic setting.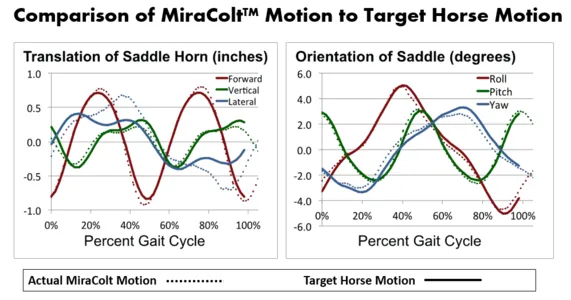 The MiraColt™ is currently serving….
34
PATH/AHA Affiliated Centers
11
Higher Ed & Research Centers
6
Special Education Facilities
Simulating the natural walking gait
The MiraColt's movement, stimulates the brain to improve neuro and muscular function. A typical therapy session with the MiraColt is between 15 to 25 minutes and generates 1,500 to 2,500 neuromotor inputs to the user.
Dormant motor neurons are stimulated in response to these inputs and correct movement patterns are encouraged, developed or recreated. These movement responses (limbs, core, trunk, head) mimic the natural body responses to pelvic movement patterns while walking.
How Do you Operate the MiraColt™
When riding, the user sits on a padded seat with hands on the adjustable handlebars. The control panel is used to adjust the settings to get the optimal speed for each rider.
---
It is important to use the device on a level, stable surface with the wheels in an outward facing locked position. The device is built to be durable, easy to clean, and effortless to maintain. It also has a strong weight tolerance, with the ability to provide riding services to users weighing up to 275 pounds.
The MiraColt™ raises the bar among riding simulators and related horse gait equipment. Some existing devices used for therapy were historically marketed as core exercise machines, providing forward-backward seat motions along with some side-to-side motion. Others were originally designed for riding training, and provide primarily forward-backward rocking motion.