Hippotherapy, Cerebral Palsy, and the MiraColt
The MiraColt, used both in a home and therapy environment, is a viable and affordable intervention in management of cerebral palsy that has been shown to improve therapy outcomes and quality of life.
As an intervention in cerebral palsy, the MiraColt™ improves core strength, posture, stability, and control. It also has a long-term positive impact on speech, memory, and learning.
As researchers learn more about equine-assisted therapy and therapeutic horseback riding, the benefits of hippotherapy for cerebral palsy become even clearer. People using the MiraColt have reported improvements in core strength with reduced muscular spasticity, resulting in improved gait and stability, plus pelvic strength and control (with accompanying bladder and bowel control). They also reported becoming progressively calmer and having better sleep, improved memory, and learning progress, as well as speech control and ability. Using the MiraColt promotes neuromuscular, sensory, and cognitive outcomes.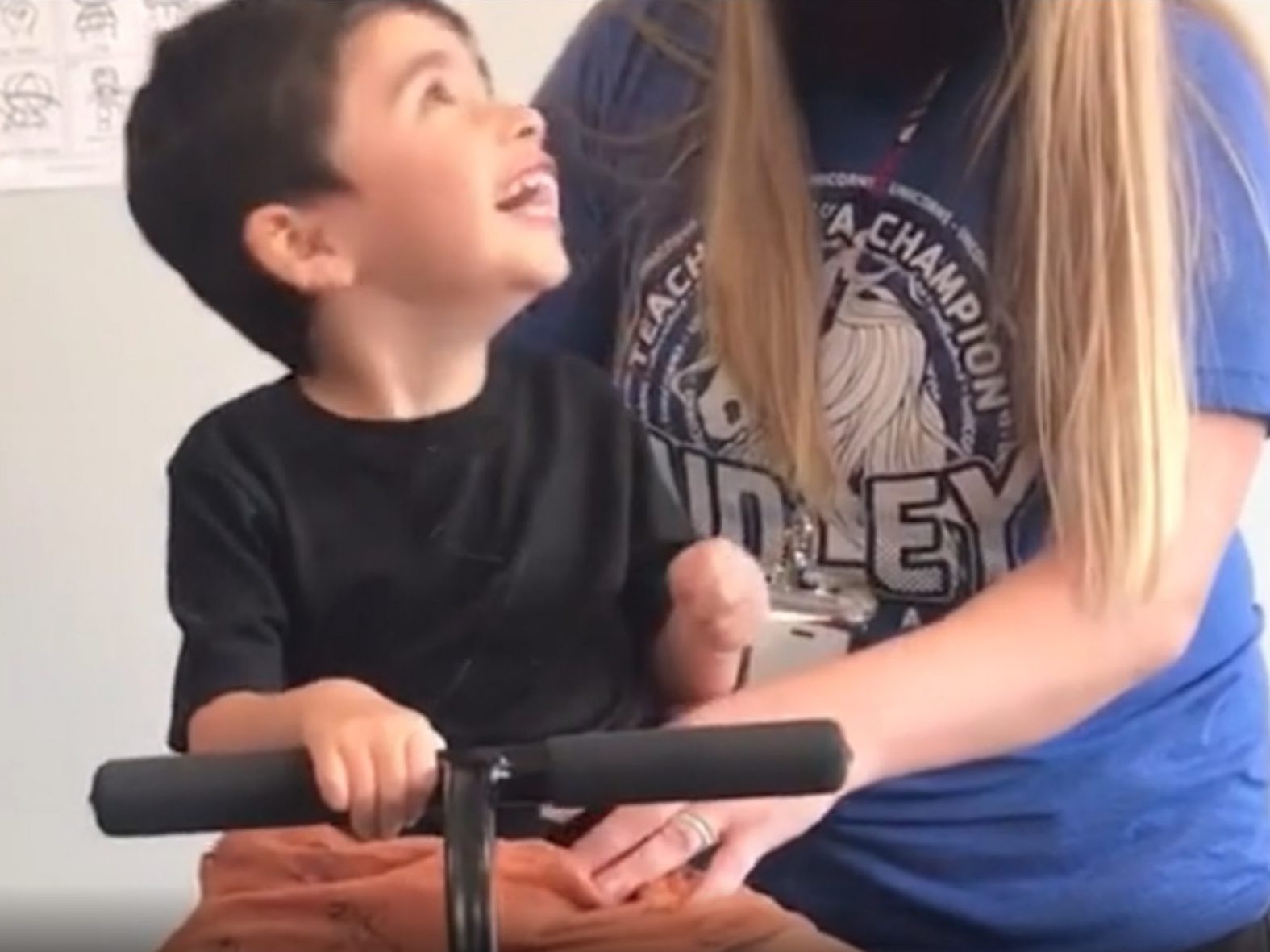 The MiraColt reproduces natural motion patterns
The MiraColt is a therapeutic medical device designed to realistically reproduce the complex and natural three-dimensional motion patterns experienced when walking or when riding a horse. When used as cerebral palsy therapy equipment, it stimulates neural pathways and the muscular system by delivering carefully graded motor and sensory inputs.
What Is Cerebral Palsy?
Cerebral palsy (CP) is the most common motor disability in childhood. According to the Centers for Disease Control (CDC), it affects about 1 in 345 children in the United States, or three per 1,000 8-year-old children. Cerebral refers to the brain, and palsy is a term that means weakness or problems related to muscles. Cerebral palsy is caused by abnormal brain development or damage to the developing brain, which results in an individual having problems with muscular control and ability. The disorder affects an individual's ability to move, maintain balance and posture, or speak.
Additionally, some people with cerebral palsy can also have associated speech and learning disabilities, plus problems with vision and hearing. Furthermore, the related muscular spasticity and tone problems can result in deformities of the spine (such as scoliosis) or joint problems like contractures. This impact on functional ability and mobility, and ultimately, independence and quality of life of the individual, can be a major source of distress within caregiver families.
Although the symptoms of CP vary from person to person, all people with the condition have some form of disability with movement and posture. People with severe CP might require use of special equipment to walk and could need lifelong care. Those with mild CP, on the other hand, could have problems with their gait, but might not require any extra assistance. Although CP does not worsen over time, the exact symptoms can change over a person's lifetime.
Occupational, speech and physical therapy interventions in the management of cerebral palsy are important in relieving the symptomatic effects of the condition. It not only relieves, but improves the overall learning and functional quality of life for these individuals. The MiraColt is inspired by the benefits that hippotherapy has shown for people with cerebral palsy.
The MiraColt, consistently used as complementary cerebral palsy therapy equipment, delivers numerous neuro-motor and cognitive improvements that improve outcomes and quality of life for people with cerebral palsy. The device, which is simple to operate, safe, and fun to ride, can be used both in a clinic setting or at home with minimal supervision and directive support from a therapist.
The MiraColt helps with cerebral palsy gait training by teaching the muscles and joints to work in a proper motion by directing the riders' hip movement into the normal human walking gait pattern.  This consistent input increases muscles memory and strength, which translates into correcting gait function. Research has shown that after about 24 sessions, each about 30 minutes, children had significant improvements in functional skills (self-care, social function, and mobility) and a reduced need for caregiver assistance.  Users had better postural balance in the sitting position, dynamic balance, and functionality.
Furthermore, as the MiraColt stimulates neural pathways, it has a calming effect on the individual with cerebral palsy. This leads to improvements in quality of sleep, which is key to memory recall and promotes development. Consistent use delivers long-term impacts on the overall quality of life and ability of the individual with cerebral palsy, plus their families.