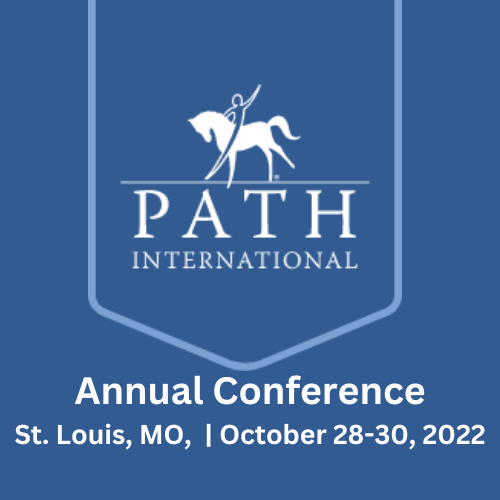 Waco, TX / September 15, 2022 / Chariot Innovations, Inc. announces its intent to attend the Professional Association of Therapeutic Horsemanship International (PATH Intl.) Conference in St. Louis, MO, on October 28-30, 2022. (See Press Release)
Natalie Brown, Marketing Director, commented "Chariot Innovations is headed to St. Louis to attend the PATH Intl. conference in October. We are very excited to attend and present the MiraColt™ to international leaders in the equine-assisted services industry."
About PATH International :
PATH Intl. was formed in 1969 as the North American Riding for the Handicapped Association. The organization has since grown to reflect a dynamic field that continues to further discover and define the benefits derived from humans partnering with horses. PATH Intl. currently represents and supports 813 member centers that offer therapeutic riding, interactive vaulting, carriage driving, equine-assisted learning, psychotherapy/counseling and therapies incorporating equines. The PATH Intl. Conference provides a forum to learn, discuss and evaluate current and future industry trends and practices. The conference will be comprised of PATH Intl. Credentialed Professionals, sponsors, program administrators, volunteers, board members, participants, therapists, healthcare professionals and individuals new to the industry.
Please visit www.pathintl.org for more information on PATH Intl.
About Chariot Innovations, Inc.
Chariot Innovations, Inc. ("Chariot") is driven to improve people's quality of life through motion-oriented technologies. Chariot produces and sells the MiraColt™("MiraColt"), a stationary and sturdy device that realistically produces the natural, complex, three-dimensional motion patterns experienced when riding a horse. The MiraColt operates indoors to provide accessible and frequent sensory, neuromotor and cognitive stimulation to achieve amazing benefits for balance, posture, gait, mobility, core strength and horse-riding preparation.
Please visit our website at www.chariotinnovations.com for more information and detail.
For additional information please contact:
Natalie Brown
Marketing Director
Chariot Innovations, Inc.
E-mail: nbrown@chariotinnovations.com
Phone: (254) 307-2547